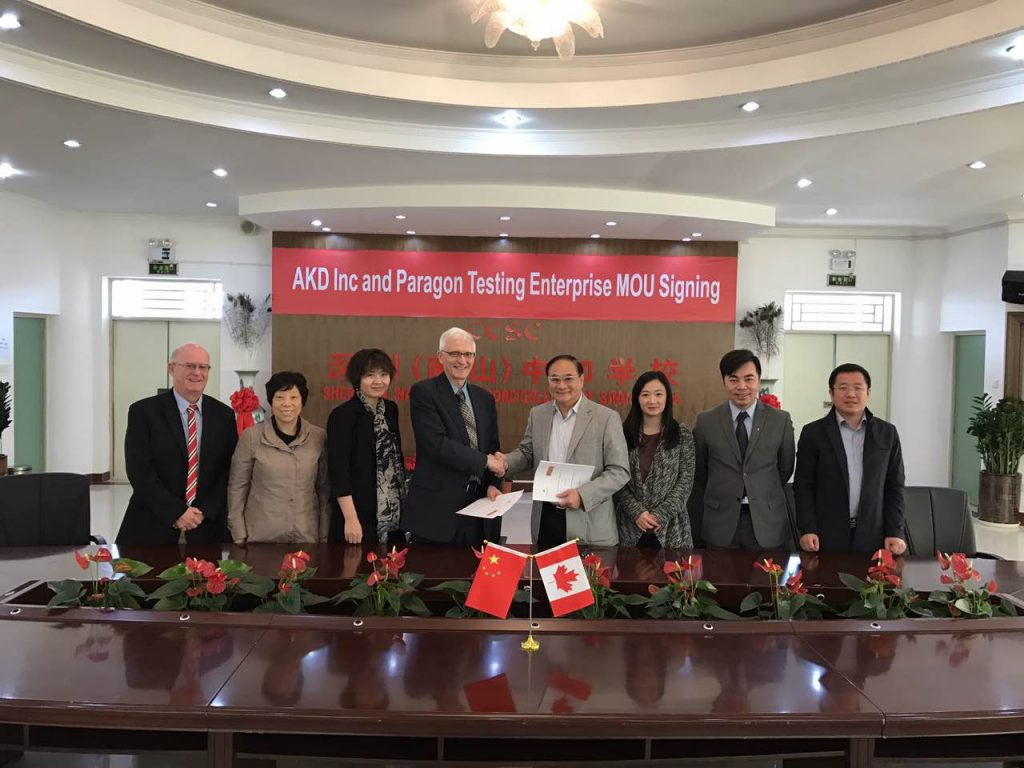 Shenzhen, China – November 30, 2016
Paragon Testing Enterprises and AKD Inc. have signed a memorandum of understanding (MOU) to  work together to introduce the Canadian Academic English Language (CAEL) Assessment as an important part of the English language preparation of students at the AKD Inc. Network of Schools.
Dr. Donald Wehrung, CEO of Paragon Testing Enterprises, and Dr. Francis Pang, chairman of AKD Inc., as well as several representatives from both organizations met in Shenzhen, China, to sign the MOU and officially announce the initiative.
"AKD Inc. offers excellent New Brunswick secondary school programs in China through its network of Concord College of Sino-Canada (CCSC) schools, and we look forward to working together on this initiative. The CAEL Assessment will provide a benefit to the students at the CCSC schools as the test includes language activities that are very similar to the activities that students will engage in during their first year of Canadian post-secondary studies," said Donald Wehrung.
AKD Inc. is the parent company of CCSC, a private international school group in China. CCSC delivers New Brunswick secondary school programs to thousands of Chinese and international students across 18 campuses throughout mainland China. The CCSC Beijing school alone has close to 7,000 graduates with Chinese/Canadian dual high-school diplomas.